Our blog
Embracing OCR For Automated Document Processing
Do you find yourself dealing with a pile of documents that require extracting information and creating it into your existing system? Are these tasks mainly carried out manually? 

If so, it is the perfect time to adopt practical tools and advanced technology to make your processes smoother, reduce mistakes, and enhance productivity. This is where Optical Character Recognition (OCR) comes in – a technological innovation that has truly transformed how documents are handled and processed. 

In this blog post, we'll delve into the concept of an OCR solution and how it is seamlessly integrated with your systems, giving you the power to process documents automatically and effectively. 

What is OCR (Optical Character Recognition)?
Optical Character Recognition (OCR) is the process of converting images of text, whether printed or handwritten, into machine-readable text. This technology is widely used to automate tasks such as data entry, document processing, and text extraction from various sources. It transforms textual content into digital formats, making it easier to manage and work with.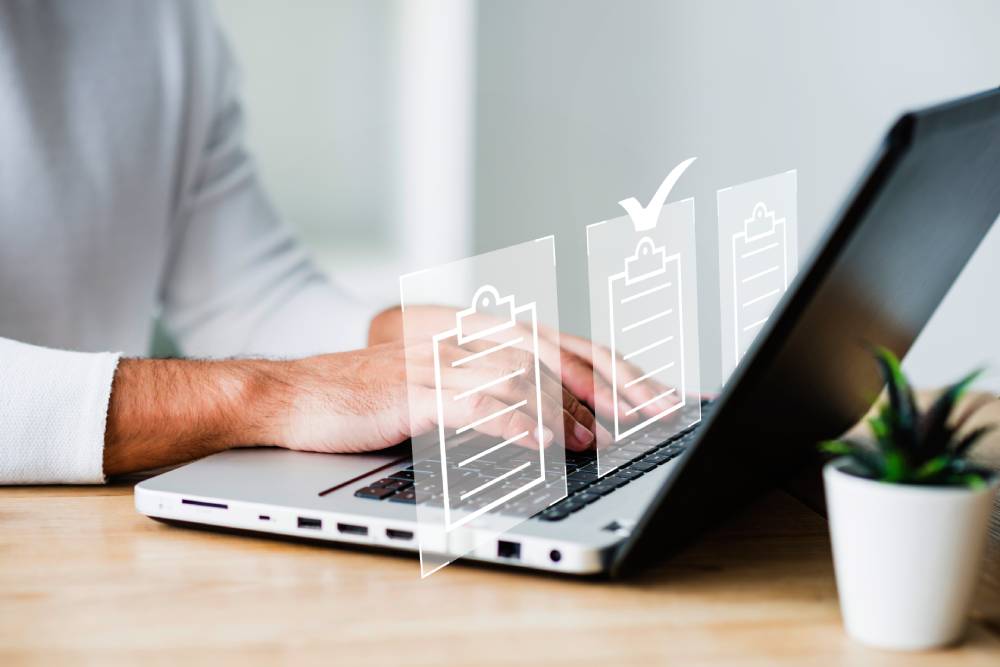 According to Deloitte, OCR-driven invoice processing can save businesses up to 80% of processing costs. Besides, Tresbu Digital's research indicated that OCR technology can also increase document processing speed by up to 75%, boosting overall business efficiency. Thus, the OCR market is expected to expand due to its integration with AI, machine learning, and automation technologies.
How is OCR used for specific industries?
With undeniable benefits, OCR technology extends across a spectrum of industries to enhance data processing, improve efficiency, and streamline operations. From finance, retail, and education to healthcare, hospitality, and manufacturing, OCR is a versatile tool that optimises a wide array of processes. Here are some of the use cases in the industries where OCR finds significant applications: 

Finance and Accounting: OCR is widely used for processing invoices, receipts, and financial documents. It helps automate data entry, reducing errors and speeding up payment processing.

Retail and E-commerce: OCR assists in inventory management by extracting product details from labels, optimising stock management, and order processing.

Logistics and Supply Chain: Logistics companies use OCR to track package labels, invoices, and receipts, and automate other document processing in shipping and logistics. The traditional method of manually inputting these business documents proved to be both time-consuming and prone to errors. So with OCR solutions, the system can read characters more accurately across many different layouts, which improves order fulfillment, tracking, and inventory control.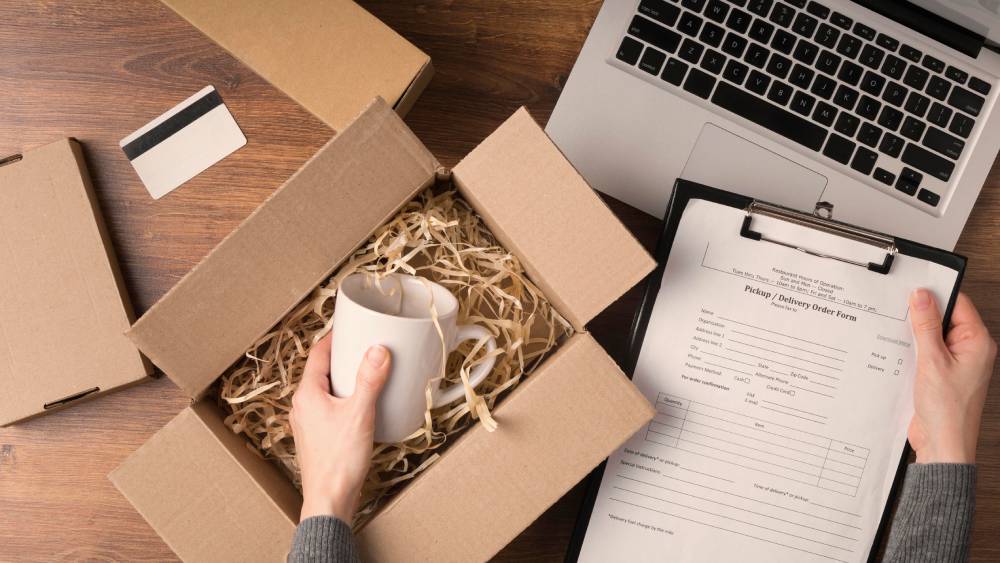 Manufacturing: In manufacturing, OCR is used for quality control, recognising product labels and serial numbers, and automating production line processes.

Healthcare: In the healthcare industry, converting paper-based patient records, including treatments, tests, hospital records, and insurance payments into digital format is essential. OCR can play a crucial role in this transition, streamlining workflow and reducing manual work while keeping records up to date.

Hospitality and Travel: OCR automates guest check-ins by scanning IDs, enhancing guest experiences and data accuracy.

Education: In education, OCR helps automate the grading process for multiple-choice exams and digitises handwritten notes, making them searchable and accessible.
These are just a few examples of industries where OCR technology has made a substantial impact, showcasing its versatility and ability to optimise a wide range of processes. If you're interested in adopting OCR technology for your business, but don't see your industry to be listed above, please drop us a line. We're happy to have further discussions.
How can Havi help businesses adopt OCR in your existing system?
At Havi, we dedicate ourselves to continuous research and development, striving to create exceptional solutions that optimise your operational processes, automate workflows, and boost efficiency. Our proficient team has developed a tailored solution to seamlessly integrate OCR into the business operation system, enabling businesses to unlock a new level of efficiency and accuracy. Here's how Havi can assist your business in adopting OCR:
Smooth Implementation: With a deep understanding of OCR tools and technologies, our experts help you analyse your current system and business processes to select the right OCR solution and design a precise OCR integration plan. This ensures that OCR seamlessly fits into your workflow, addressing your specific document processing requirements such as invoicing, purchase orders, customers, or payment.

Training and Support: Our team provides a comprehensive user guide or training to your staff, equipping them with the skills to effectively use the OCR-powered processes within your system. Additionally, Havi offers ongoing support to address any questions or issues that may arise.

Workflow Enhancement: Havi's expertise spans beyond just technology integration. We can help you optimise your workflows, ensuring that OCR-driven processes align with your business goals, increasing efficiency, and reducing operational bottlenecks.

Continuous Improvement: Havi stays abreast of OCR advancements and evolving technologies, ensuring that your OCR solution remains up-to-date and aligned with the latest industry trends.
With OCR integration, you can enhance and save time on document processing in your system, reduce manual efforts, and enhance productivity. Our end-to-end approach ensures a smooth adoption journey that delivers tangible benefits to your business.
Explore key use cases of OCR in ERP systems - Take Odoo as an example
Let's explore some practical scenarios where OCR can elevate document processing in the ERP system. We will use Odoo, the widely adopted ERP platform, as an example. By examining these real-life situations, we gain valuable insights into how OCR can streamline processes, boost productivity, and make it easier to handle documents in ERP systems. 

Automated invoice processing
Let's say you're a business owner handling numerous invoices from your suppliers in PDF files. Normally, your accountant manually inputs this data into the system. However, you can now follow these steps:
Step 1: Upload documents to Odoo
Please upload these documents to a pre-defined workspace in the Odoo Document and sent them to the OCR.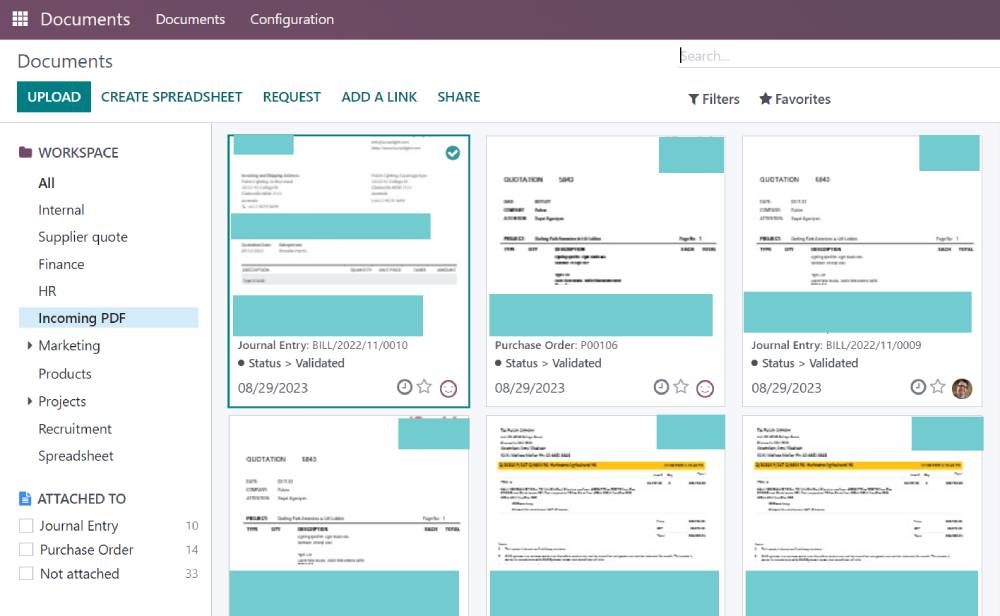 Step 2: OCR extracts relevant information
Here, the OCR quickly extracts relevant information from invoices, such as vendor details, product specifics, invoice amounts, and payments.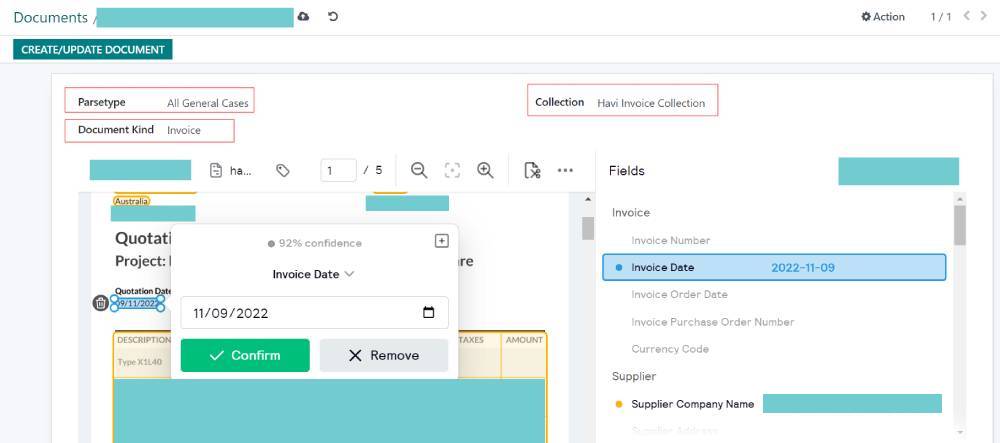 Step 3: Review the data and create/update an invoice
With extracted data in hand, you can review data, map them with corresponding fields and easily create invoices within the Odoo system. This enables faster and more accurate invoice processing in Odoo.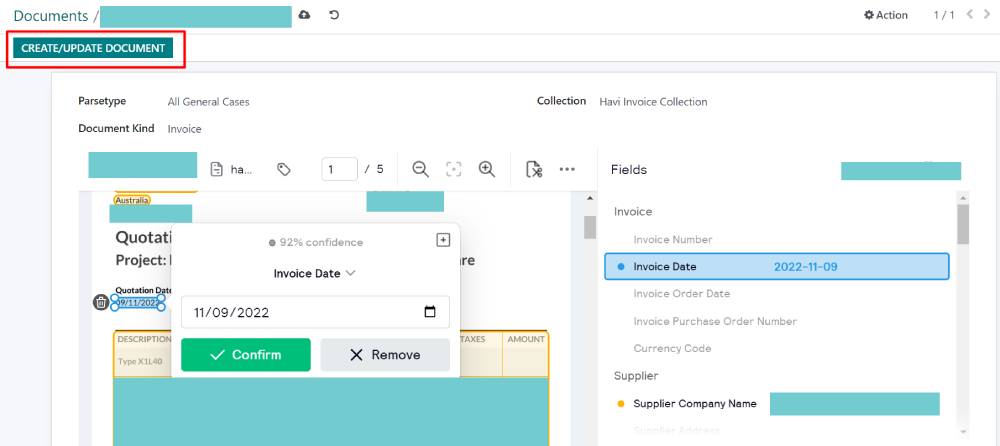 Automated purchase order processing
As a procurement manager, you often receive many quotations from suppliers. Typically, you'd need to manually input this data into the system to create purchase quotations. However, a smarter approach is available now. Please take a look at the following steps:
Step 1: Upload Documents to Odoo
With Odoo Document, you can upload these documents to a designated workspace. The system then sends them to OCR to automatically extract the needed information.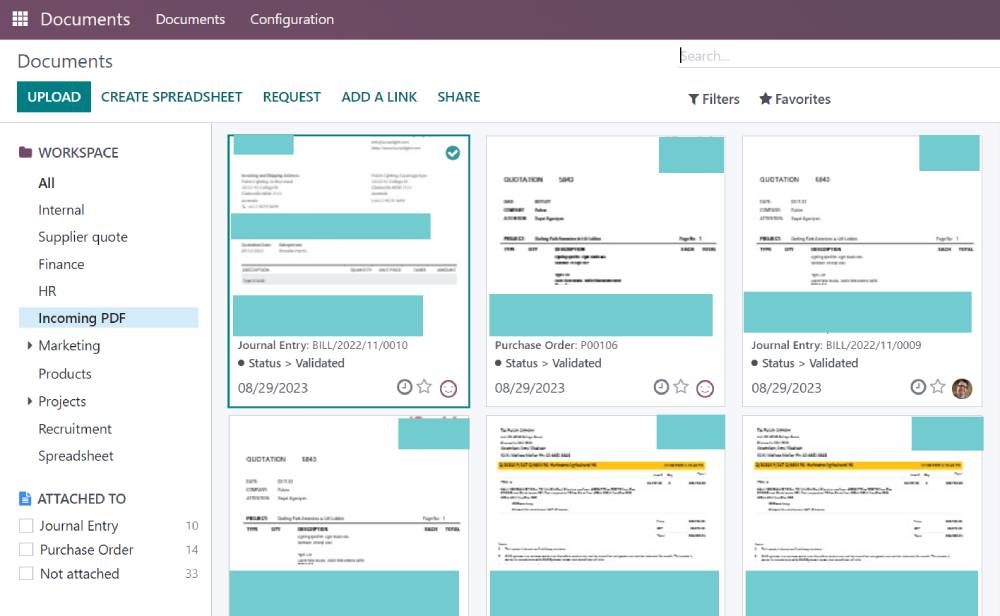 Step 2: OCR extracts relevant information
The OCR technology promptly extracts important details from the quotes, such as supplier info, item specifics (Product, Description, Quantity, UoM, Unit price, etc), and payment details.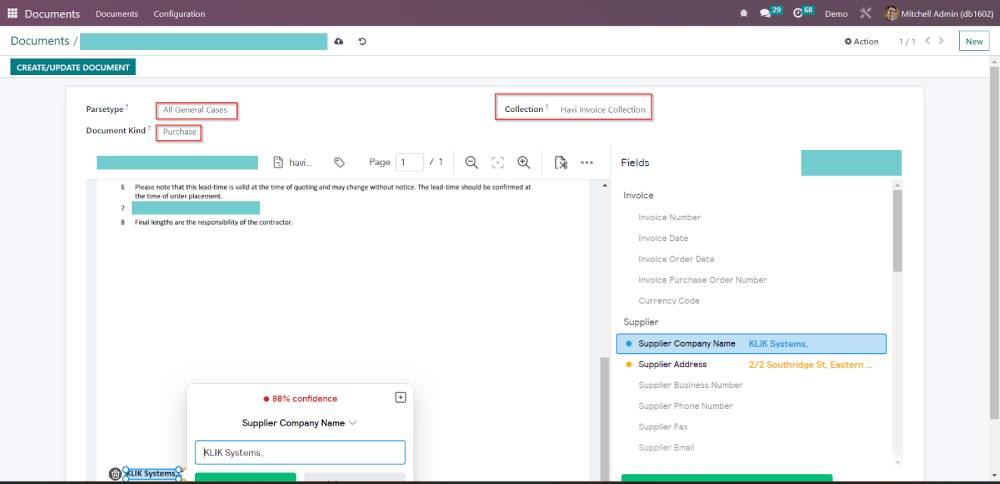 Step 3: Review the data and create/update a purchase order
Once this data is successfully collected, you can review it and generate a purchase order directly within Odoo. This process accelerates and improves purchase order handling.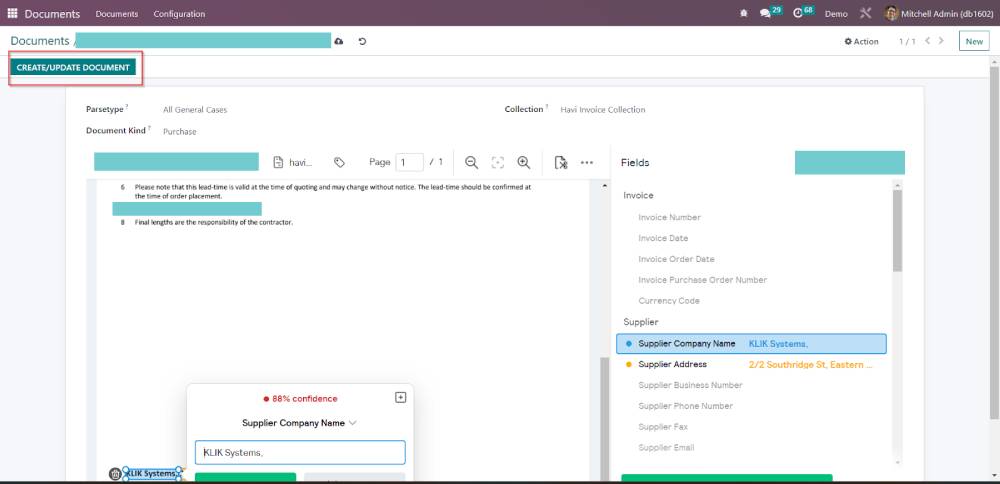 There are just a couple of instances showcasing how OCR technology seamlessly integrates with ERP platforms such as Odoo to optimise document processing. If you're curious to see how these work in action or have unique requirements for your business, please get in touch with our team for more details.
Conclusion
In the pursuit of efficiency, businesses can't afford to overlook the power of OCR solutions for automated document processing. By eliminating manual bottlenecks, enhancing accuracy, and unlocking insights, OCR-driven processes can usher in a new era of productivity. Embrace the future of document processing – implement OCR within your ecosystem and witness the transformation firsthand.
Want to learn how Havi can help you adopt OCR solution in your existing system?