Our blog
How to Choose the Right Odoo Partner for a Successful Odoo ERP Implementation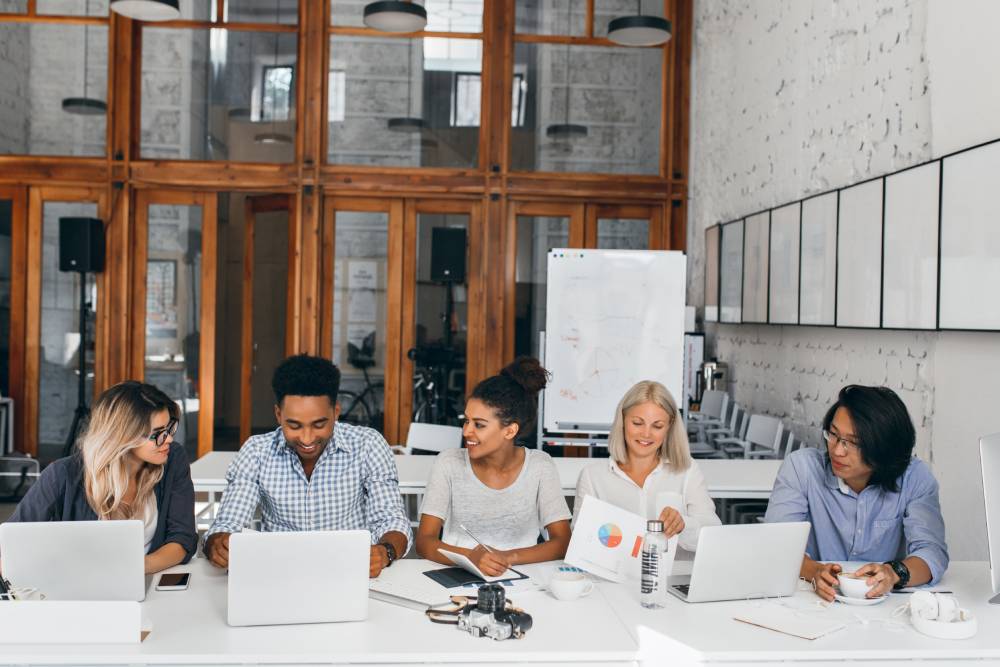 Odoo is a flexible and scalable business management software suite that empowers companies to efficiently manage various aspects of their operations. As the platform continues to grow, an increasing number of businesses are seeking to leverage its potential for their specific needs.
This is where Odoo partners come into. These partners play a pivotal role in helping businesses successfully implement Odoo solutions, so finding the right Odoo partner is a crucial decision for any business. An experienced Odoo partner can guide you through the successful implementation process, while the wrong choice can potentially lead to setbacks.
In this blog post, we'll explore what an Odoo partner is, what they do, the different types of Odoo partnerships, and key factors to consider when choosing the Odoo partner for your ERP project.
What is an Odoo partner?
An Odoo partner is a company or an organisation with an in-depth understanding of Odoo's functionalities and capabilities. These partners offer a range of services related to Odoo, from consultation, and implementation, to training, launch, and support. They act as a crucial bridge between Odoo's software and your business needs, enabling you to make the most of this powerful platform.
Types of Odoo partnerships
Odoo recognises its partners based on their skills and the number of successful Odoo implementations. There are four primary levels of Odoo partners:
Learning Partners: These partners are organisations or companies that provide training courses, workshops, and education services related to Odoo. These training programs are designed to teach users how to effectively implement, configure, and use Odoo applications to meet their specific business needs.

Ready Partners: These partners have completed the initial requirements to become recognised Odoo partners. They have typically undergone training and certification to demonstrate their competence in implementing and customising Odoo solutions.

Silver Partners: These partners have achieved a higher level of expertise and commitment to Odoo. They have typically completed more extensive training and certifications and have a proven track record of successful Odoo implementations.

Gold Partners: Odoo Gold partners have demonstrated a high level of proficiency and commitment to Odoo. They have extensive experience in implementing Odoo solutions and have achieved a high level of certification and expertise.
How to select the right Odoo Partner for your ERP Implementation?
Choosing the right Odoo implementation partner is one of the important decisions you will face. A proficient Odoo partner has the ability to comprehensively assess your requirements, tailor your Odoo solution, and provide training that aligns with your budget and project timeline.
Be sure to take these 5 criteria into consideration: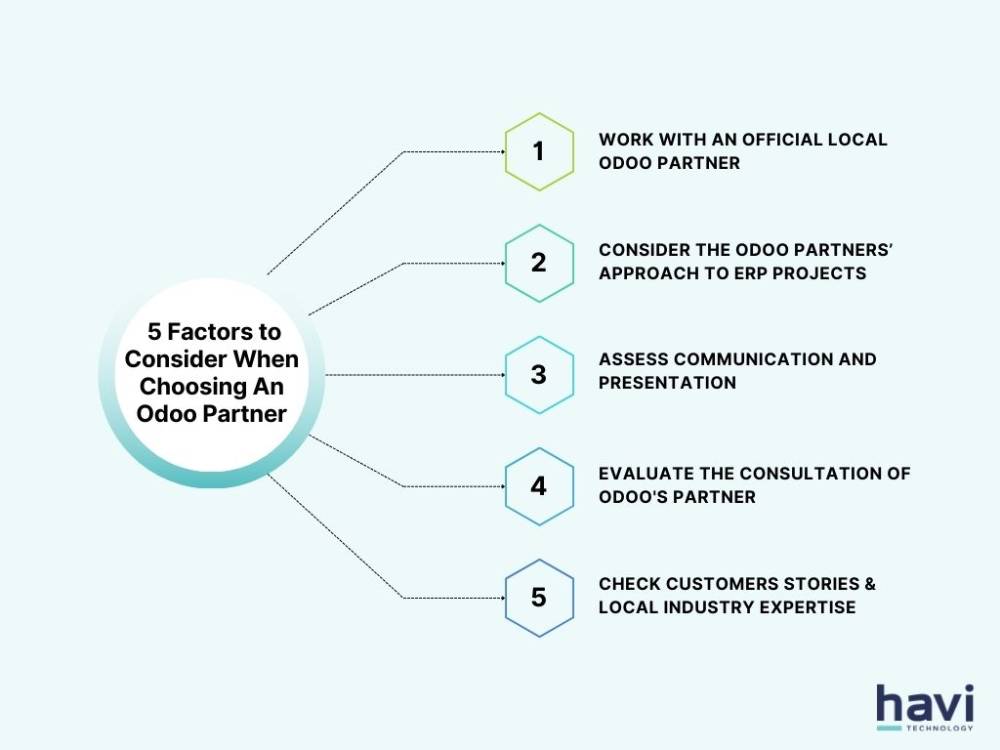 1. Work with an official local Odoo partner
While numerous IT consultants handle Odoo implementations, the official Odoo partners, especially Odoo Gold Partners in Australia, are relatively scarce. These authorised partners are committed to delivering high-quality Odoo services to businesses. 

One of the biggest advantages of working with official Odoo partners is access to their expertise, skills, and resources, and they will be able to support you during your implementation as well. They are well-versed in the Odoo software's capabilities, which can save you time and resources in the implementation process. 
For instance, an Odoo partner can help you choose the right plan for their needs, recommend the best apps and integrations to use, and provide insights on how to smooth out the operational processes.

Besides, these partners regularly work with Odoo account managers, they are well-informed about all the latest news about the system and thus the process of possible problem-solving is much shorter and more efficient.
2. Consider the Odoo partners' approach to ERP projects
The project approach refer to a set of guidelines and deliverables throughout the Odoo implementation process. These guidelines aim to outline the structure of the implementation process, set milestones, establish timelines, and determine the budget for your Odoo system's implementation. 
As a client, the approach holds great significance for you, as it clarifies how you will be kept informed about the project's progress, when payments for the implementation will be due, and when you can expect to be alerted to potential issues.
Regardless of the approach of the Odoo partner, it's essential to ensure that the following aspects are comprehensively addressed and monitored:
Detailed Project Plan/ Roadmap

Budget and Progress Control

Documentation and Training

Change Management.
3. Assess communication and presentation
Effective communication is one the crucial aspects when working with the Odoo partner. Consider the following questions regarding the service providers you are engaging with:
How long does Odoo consultant respond to your inquiries?

Is the consultant able to listen and gain an understanding of your company and the challenges you are addressing?

Does the consultant conduct a specific ERP GAP analysis of your business requirements?

Does they provide you with a comprehensive project roadmap/ plan?
The primary areas of concern should revolve around their consultative approach and professionalism.
4. Evaluate the consultation of Odoo's partner
The process of ERP implementation is inherently intricate, demanding a consultant with an in-depth comprehension of your business. 
For a Odoo consultant to be effective, they need to listen and understand your operational processes, the scope of work, and the challenges you are presently grappling with. This knowledge forms the foundation for proposing and crafting an optimal solution tailored to your company's unique needs.
When the consultant engages in asking numerous questions about your business, it serves as an encouraging indicator of their commitment to formulating a bespoke solution, rather than offering a one-size-fits-all approach.
We also recommend that you pose pointed questions to your consultant concerning your specific business scenario and how precisely the system will contribute to get to know your company's strategies, objectives, and vision.
5. Check customers stories & local industry expertise
Distinguished ERP consultants boast extensive experience in ERP implementations and your industry. When evaluating your Odoo partner, make inquiries about their customer stories with Odoo implementations within your industry. Delve into the details of these projects, including their outcomes, budget, and timeline. Gain insights into both the results and challenges encountered in these implementations.
Furthermore, assess the Odoo partner's capability to create custom modules and seamlessly integrate Odoo with the software systems you currently use such as payment, shipping, e-invoicing, ecommerce platform, etc. Request examples of integrations and customisations they have successfully delivered to previous clients.
Conclusion
Odoo partners play a crucial role in helping businesses harness the full potential of the Odoo software. When selecting a partner, consider their experience, certifications, approach, local industry expertise, and client feedback. The different partner levels, such as Silver and Gold, can serve as a guide to finding the right fit for your needs. By choosing the right Odoo partner, you can ensure a smooth and successful Odoo implementation for your business.
Whether you are just getting started with Odoo or looking to take your business to the next level, working with an Odoo partner can help you achieve your goals and succeed on the platform. If you are looking for an expert Odoo partner in Australia, look no further! Havi Technology is an Odoo Gold Partner in Australia with an in-depth knowledge of the Odoo platform and local industries.
Want to learn how Havi can help you enhance your operations with Odoo?