Our blog
Integrating Border Express with Odoo for Speedy Shipping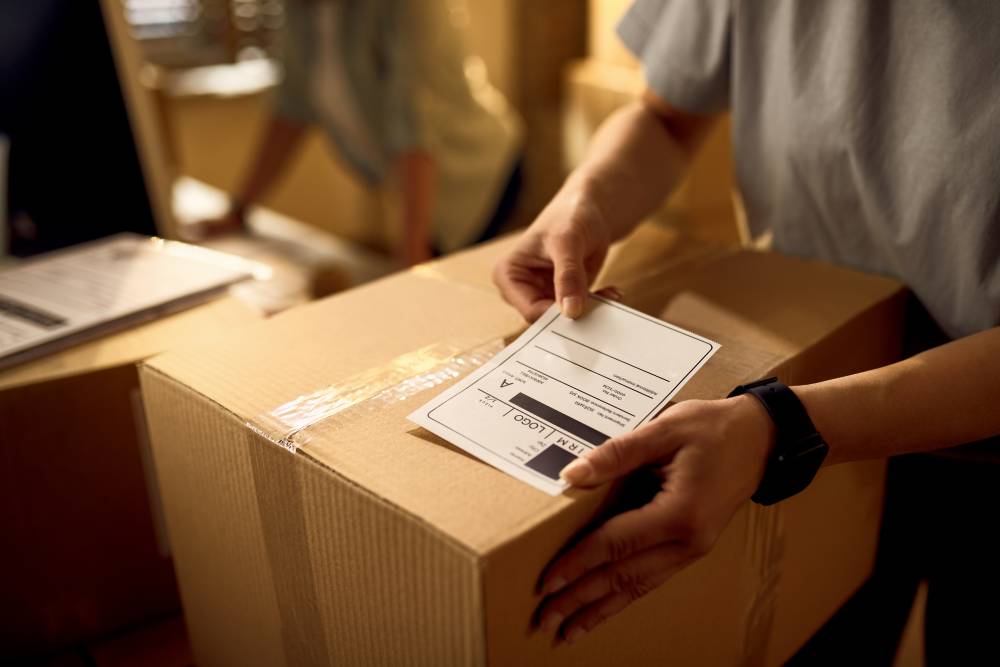 Efficient and timely delivery of products has become a critical aspect of customer satisfaction. So businesses are constantly on the lookout for ways to streamline their logistics operations and improve the shipping process. One of the proven efficient solutions is integrating their ERP system with major shipping carriers. With seamless integrations, businesses can save time and speed up fulfillment to safely deliver products into the hands of their customers.
In this blog post, we want to introduce you to a popular shipping carrier integration for Australian businesses - Border Express with Odoo. Let's delve into how to integrate two platforms and their benefits, and how to use this shipping in Odoo to achieve faster and more efficient deliveries for their customers.
Understanding Border Express and Odoo
Border Express is a trusted and reputable courier and freight service provider in Australia. With over 30 years of experience in the industry, they have earned a solid reputation for their reliable and efficient transportation services. Border Express offers a wide range of delivery options, including road and air freight, warehousing solutions, and specialised services tailored to suit different business needs.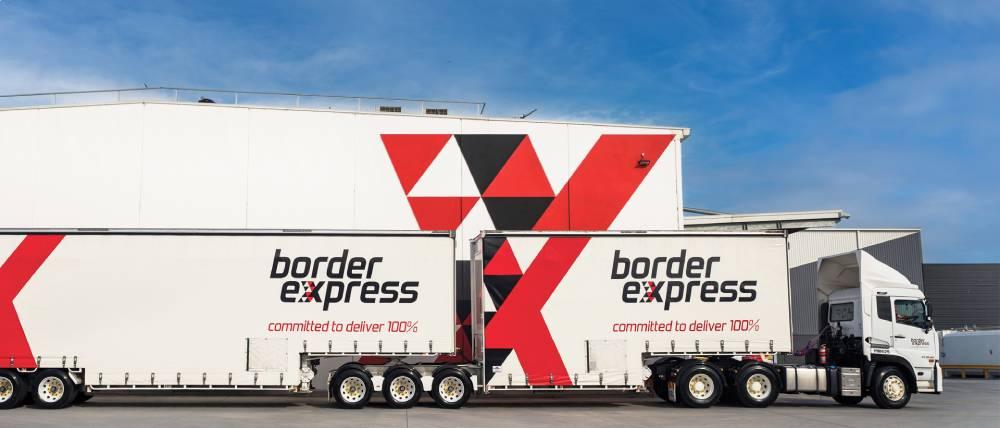 Odoo, on the other hand, is a popular and versatile ERP (Enterprise Resource Planning) software that covers various business functions, including sales, inventory management, accounting, and more. Being an open-source platform, it facilitates integration with third-party services such as payment providers, shipping carriers, and more with ease.
Border Express + Odoo: The perfect match for efficient shipping and beyond
Integrating Border Express with Odoo can be very useful for businesses that deal with shipping, logistics, and supply chain management. However, Odoo does not have a built-in connection for Border Express Shipping. But don't worry, there are three main ways to make them work together:
Develop a custom module: If you have an in-house development team, you can require them to develop a custom module that helps to integrate Border Express with Odoo. 

Using 3rd-Party Tool: You can use a ready-made tool in the market. This tool acts as a bridge between Odoo and Border Express, enabling them to share information effectively.

Engage with an Odoo partner: If you lack an in-house team of experts or struggle to find a reliable 3rd-party tool, no problem! You can consider consulting with an Odoo partner who will take care of the integration from start to finish. At Havi, we understand that, so we have already developed a custom module facilitating smooth integration between Border Express and Odoo. This help businesses focus more on selling products and spend less time dealing with system settings.
Besides, doing this integration can offer several benefits for businesses involved in shipping, logistics, and supply chain management. Here are some benefits of seamless integration:
Enhanced shipping process: When you place an order in Odoo Sales using Border Express shipping, the system takes care of tasks automatically. It creates shipping labels, dispatches pickup requests, and tracks the shipment until it reaches the customer's doorstep. This saves time, reduces mistakes, and makes everything work better. 

Real-Time Tracking: With the seamless integration, you can track where their shipments are in real time. Odoo retrieves tracking information from Border Express, so you know exactly where your package is at any moment. This transparency helps you build trust with customers and quickly provide them with accurate order status.

Better Customer Experience: Faster and more reliable delivery services lead to happier customers. With timely deliveries, customers are more likely to be satisfied with their purchase and may even become repeat buyers.

Centralised Data Management: Integrating Border Express with Odoo helps you centralise data related to shipping and logistics. You can find all the details about shopping, tracking, and delivery status within the Odoo system, making it easier for businesses to manage their operations efficiently.
How to use Border Express shipping in Odoo
Now that you know some approaches to integrating Border Express with Odoo and its advantages, it's time to discover how you can use Border Express shipping within the Odoo ERP system. This will help you make your shipping processes more efficient and offer a top-notch customer experience. Let's dive in and explore how to use it below!
Step 1: Border Express shipping configuration in Odoo
After having completed the integration, you need to set up the shipping methods in Odoo by going to Inventory -> Configuration -> Shipping Method and selecting "Border Shipping". You will need to configure shipping rates, delivery times, and any other relevant shipping options.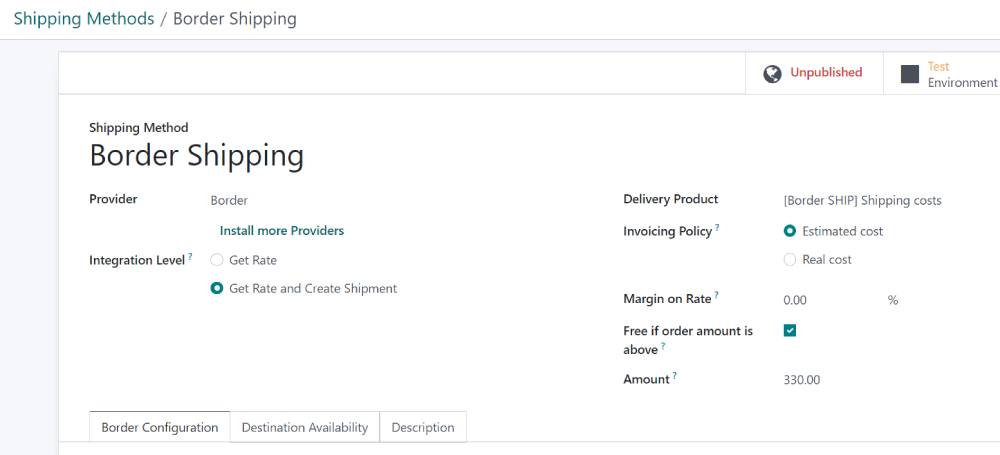 Step 2: Create a sales order with Border Express for shipping
Now, you should be able to proceed with orders in Odoo. You go to the Odoo Sales and create a new Sales Order. After adding the customer and product, please click on Add Shipping button.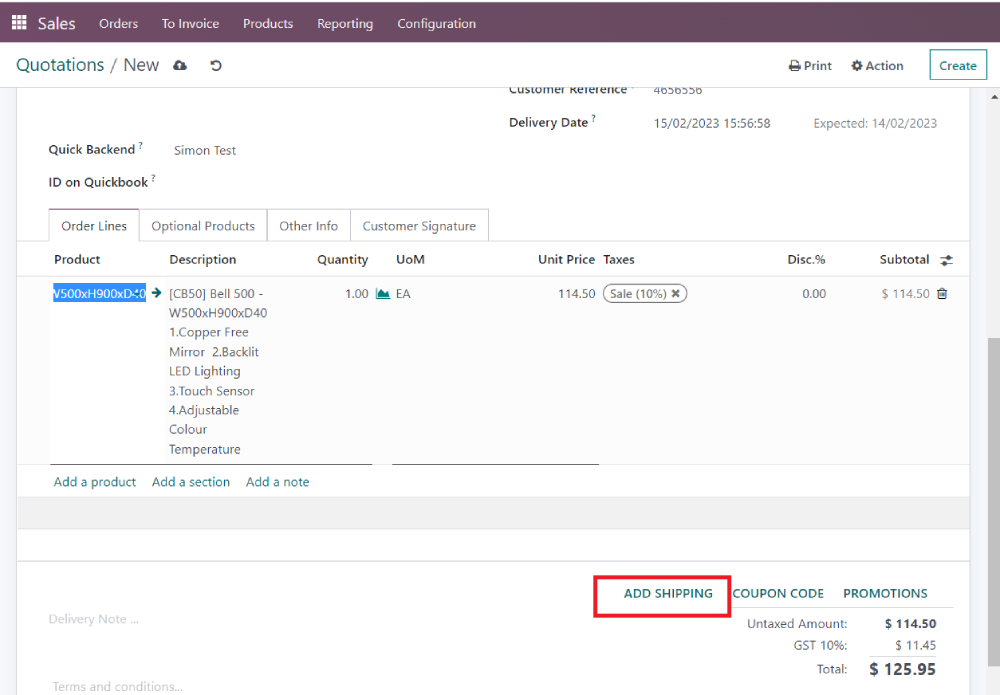 Then select the Border Express for the shipping method, and click on the Get Rate button.

When an order is ready for shipping, the system will send the necessary information to Border Express, and you will be able to generate shipping labels, track shipments, and handle other shipping-related tasks from within Odoo.
Step 3: Confirm and Delivery

Now, you can click on Confirm button and click on the Delivery tab to deliver the product as Odoo flow.
"Nearly there! It's time for Border Express to take charge of shipping your products to customers, while you effortlessly stay informed about the shipping process."
Conclusion
Integrating Border Express with Odoo can significantly enhance the shipping and logistics capabilities of businesses, resulting in faster and more reliable deliveries for customers. By harnessing the power of technology and logistics, businesses can gain a competitive edge in the market while ensuring customer satisfaction remains a top priority.
So, if you're looking to optimise your shipping processes and enhance your overall logistics management, consider integrating your shipping carriers with Odoo. With extensive experience in Odoo, we enable you to integrate your Odoo ERP with major shipping carriers such as Border Express, Australia Post, Fastway Couriers, Sendle, StarshipIT, Couriers Please, etc. 
If you have any inquiries or questions about Odoo shipping integration, please do not hesitate to reach out to us. We're here to assist you every step of the way.
Want to learn how Havi can help you integrate Odoo with major shipping carriers?