Our blog
Meet Havi Technology at Digital Transformation Live 2023 in Sydney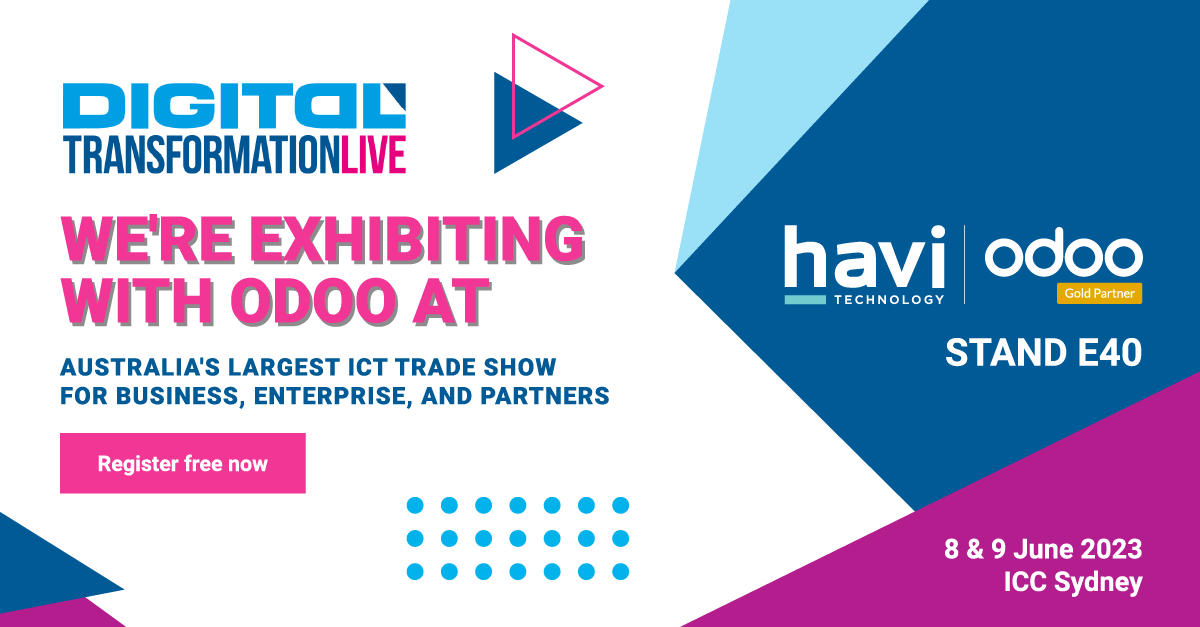 We're excited to announce that Havi Technology and Odoo will be participating as official exhibitors at Digital Transformation Live 2023 (#DTL2023), taking place at ICC Sydney on 8 - 9 June, 2023. We extend a warm welcome to visit Stand E40 at #DTL2023, where you can experience a live Odoo demo and receive expert advice from our Technical Director and a team of experts.
About Digital Transformation Live 2023 
Australia's largest ICT trade show is set to kick off in Sydney in June and is going to help businesses and enterprises improve their processes, efficiency, security, and profitability. The event offers two days of lively and insightful networking opportunities where you are able to engage with 4500+ tech enthusiasts from diverse sectors. 
In addition, the event brings together 180 exhibitors who will be doing their live products and services demos and showcase the latest in digital transformation. This is also an incredible opportunity for you to exchange ideas and knowledge with world-class speakers and industry leaders, benchmark best practices, and get valuable insights through 18 striking tracks.

Do you want to join us at #DTL2023 in Sydney?


Havi Technology and Odoo will be participating as official exhibitors at DTL 2023 
We are excited to engage with over 4500 tech enthusiasts on the expo floor, stay updated with the latest technology news, form new partnerships, create more meaningful connections, and most importantly, showcase innovative Odoo ERP technology solution that can help businesses of all sizes to streamline their processes, optimise operations, and boost efficiency. 
Odoo is #1 open source, meaning it can link up with ten of thousands of apps and software. The result is a single-source, cost-effective, modular solution that can flex as your business evolves. 
Join us at the exhibition, where we will provide guidance on Odoo ERP technology solutions and share valuable insights on how Odoo can revolutionise your business. Don't miss out an opportunity to experience a live Odoo demo right at #DTL2023.
Havi Technology welcomes you at Stand E40. Please check the floor plan shown below:
Source: Digital Transformation Live
Information about this event 
Name: Digital Transformation Live 2023 (DTL2023)
Event date: 8 - 9 June, 2023 (Thursday to Friday) 
Venue: ICC Sydney - International Convention Centre, Sydney, Darling Drive, Darling Harbour NSW 
Participant: ICT Leads and Teams from Businesses, Enterprises, and Government. 
Register for free here: https://secure.terrapinn.com/V5/step2.aspx?Q=2723331JSSM&TMID=2867860 
We look forward to meeting you at Stand E40 on 8-9 June at ICC Sydney. 

Need more info? Get in touch with our team.

Want to learn how Havi can help you manage your remote team more effectively?